Conférence Européenne, Hollande, juin 2012
Tradition orale de l'ennéagramme : conférence européenne au chateau de Berckt, aux Pays-Bas du 8 au 10 juin 2012
Lorsque cette conférence aura lieu, cela fera trois ans depuis le dernier rassemblement de ce type à Bruxelles en juin 2009.
Passage de témoin : La conférence de la « Génération suivante »
Je voudrais que cette conférence devienne celle de « la génération suivante ».
Nous savons qu'après vingt ans d'existence en Europe, nous, les animateurs de l'école de la tradition orale, avons pas mal de connaissances, d'expérience et de talent à partager.
Des animateurs certifiés diffusent le programme EPTP (celui du CEE : Enneagram Professional Training Program) et des participants d'Europe et d'ailleurs utilisent depuis longtemps l'ennéagramme dans leur vie ou dans leur profession.
Pensez à ce que l'ennéagramme signifie pour vous, ce qu'il vous a apporté.
Pensez au nombre de personnes et de professionnels qui n'y ont pas encore accès.
Mon idée est de continuer à développer et à diffuser encore et encore cette dynamique de l'ennéagramme, ensemble.
Tous ceux qui sont certifiés CEE ou qui ont participé  à au moins trois modules d'une école diffusant l'enseignement de la tradition orale reconnue par Helen Palmer sont le bienvenus.
L'autre condition est de parler anglais. Nous avons décidé, pour fluidifier les contacts, qu'il n'y aurait pas de traduction simultanée cette fois-ci.
Tout le programme est orienté sur la dynamique relationnelle :
Panels sur  l'ennéagramme dans la vie affective (David Daniels, USA)
L'Enneagramme dans la vie de couple (Paul and Rosemary Cowan, GB, conseilleurs conjugaux)
Les sous-types de l'Ennéagramme dans les relations (Eric Salmon, France)
Utiliser l'Enneagramme en médiation (Pamela Michaelis, Allemagne)
Ouvrir le centre du coeur (Jeanette van Stijn, Pays-Bas)
Mettre de la conscience dans ses  relations (Jürgen Guendel, Allemagne)
Intervention d'Helen Palmer, également sur l'Ennéagramme et la dynamique relationnelle
Jeanette van Stijn
Enneagram Nederland
Renseignements en français auprès d'Eric Salmon : eric.salmon@cee-enneagramme.eu
Renseignements en anglais auprès de : office@enneagram-nederland.nl
European Conference 2012
Enneagram in the Narrative Tradition
June 8-10, 2012
Netherlands
wíth Helen Palmer and David Daniels
« It's all about relationships »
Foreword
By the time this conference will take place, it has been exactly 3 years since the last conference with Helen Palmer in Brussels (June 2009). As I have attended many of these Conferences, I miss meeting my European peers on a regular annual basis and would like to see this continue. Reason to take this initiative to host the next European Conference « new generation » in 2012.
I sincerely hope that our Dutch Enneagram community can welcome and meet many of you. Please reserve these dates in your agenda and join us in 2012!
Jeanette van Stijn
Enneagram Nederland
Next generation conference
Our idea for this « next generation conference » is to exchange and inspire from peers to peers.
We know that after decades of working with the enneagram in Europe, we have lots of knowledge, experience and talent amongst us.
We have European EPTP-teachers who work affiliated/associated with Enneagram Worldwide.
We have other experienced professionals who have been working with the enneagram for a long time in their profession.
Think of what the enneagram means to you, what it has brought you.
Think about the number of people and professionals still unaware of this!
Let's develop and spread this enneagram work further together.
Come to the Netherlands in June 2012; join us and be part of this next step!
Starring… Helen Palmer and David Daniels!
The subject of « relationship » also concerns the relationship of Europe with the USA; Helen Palmer, David Daniels, Peter O'Hanrahan and Terry Saracino (successor of Peter as director of Enneagram Worldwide).
In order to stay en feel connected, there is a need to 'feed' this connection from both sides. Therefore we are so very happy to inform you that Helen and David both responded with enthusiasm to support our initiative with their presence at this conference. A very pleasant surprise indeed. Peter and Terry are happy to come over on a later occasion.
It's all about relationships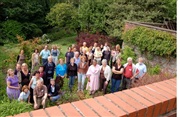 Life is all about relationships. One of the main contributions of the enneagram is that it brings us understanding and appreciation of others. Both vital aspects for maintaining meaningful and sustainable relations.
The program consists of several plenary presentations and many short simultaneous workshops from which you can choose according to your own preference and interest. The theme will be used in many different ways in workshops offered by leading European Enneagram professionals. A few examples of workshops (exact content/title might change):
Panels on love and intimacy (by David Daniels, USA)
Couples work with the enneagram (by couple counsellors and therapists Paul and Rosemary Cowan, UK)
The Enneagram subtypes in relations (by Eric Salmon, France)
The use of the enneagram in mediation – how to work with the enneagram in disturbed relationships (by Pamela Michaelis, Germany)
Opening the heart-centre (by Jeanette van Stijn, Netherlands)
Essential counsciousness in relations (by Jürgen Guendel & team, Germany)
Workshop subjects might have to do with the enneagram in work relations (teambuilding) or be more spiritually oriented like « my relationship with Unity/God », or… « my relationship with me ».
Please contact us if this Relationships-theme is something you are professionally experienced in and you want to give a workshop about. We welcome two types of workshops: workshops that are of interest to vitalize or deepen your own relationship(s) and workshops for professionals to get inspired and learn new ways of working with the enneagram in relations.
A summary of what the conference will offer:
plenary presentations, by keynote speaker Helen Palmer and others
opportunities to meet with and exchange amongst professional peers working with the enneagram
opportunities to revitalize your own inner work with the enneagram in a great holding environment
many workshops by senior teachers from which you can choose to follow a program of your own particular interest
lots of possibilities for personal inner work like early morning guided meditation, center practises (like body work), attention exercises, breathwork, etc.
during the conference summaries will be made and all attendees will receive a complete set of presentations afterwards. This will be a valuable and unique conference syllabus on the Enneagram and Relationships
Evening program with:
exclusive cello concert by Martin Salzwedel (well known to many of us)
skit program the Dutch way with presentations either by type or country…
Our aim is to offer a momentum to learn from and get inspired by each other so we will all go home filled with new ideas and maybe opportunities to cooperate with newly met peers.
For who to attend…
This conference is for Enneagram Professionals trained and/or working in the Narrative Tradition to meet, share, and inspire each other.
It is not required that you are a certified teacher!
It is required that you have attended an Enneagram Intensive (formerly known as the EPTP-1) by Enneagram Worldwide or by any of the other associated EPTP-schools/teachers around the world.
The main language during the conference is English. If a large number of people from one country need translation we will arrange the necessary technical equipment to do so. However, this translation can probably only be offered to the plenary presentations. It will be more difficult to provide this service in the simultaneously held smaller workshops.
If you have any hesitations or concerns regarding your participation, do not hesitate to contact us. We are most happy to support you in whatever way we can!
PLEASE SEND THIS ANNOUNCEMENT TO EVERYBODY YOU KNOW,
WHO MIGHT BE INTERESTED AND HAS ATTENDED THE INTENSIVE / EPTP-1!
Accommodation Castle de Berckt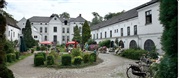 The European Conference will take place at the intimate Dutch Castle De Berckt in Baarlo.
It is easily accessible by car and plane from many destinations. There are eight airports within a one-hour-drive, to which many European budget airlines as well as internationale airlines fly.
Although it is a Castle, it is a small and informal location which mainly hosts spiritual groups. We will have our own meeting spots like a living room. The Castle is renovated in a sustainable way with the use of recycled materials. It is situated on 60 acres (!) of land with fruit orchards and nature and just 500 meter from the river Maas.
And… just 10 minutes away from this Conference site, in 2012 a huge Dutch flower and garden event (the Floriade) takes place. This is organized every 5 years in the Netherlands and visited by millions of people from allover the world!
Registration, prices, rooms and other options
It is possible to register immediately!
For example if you want to make sure you'll have a single room with your own toilet/shower…
Registration rates:
Conference: € 450
Early bird: € 350 (if you register ánd pay before February 1, 2012)
Board and lodging:
Single room: € 300
Shared room (2 persons): € 240
Shared room (3 or more persons): € 210
Bring your own tent and sleep in the fruit orchard!: € 180
Non-residential: € 150
Above prices include meals, tea/coffee, meeting rooms and 19% VAT.
Other:
Extra night including breakfast: € 45
Extra dinner: € 22,50
To be booked by and paid to Enneagram Netherlands.
The Conference starts in the morning of Friday June 8 and finishes in the early afternoon of Sunday June 10, 2012. This way we have almost 3 full conference days and 2 evening sessions.
TO REGISTER: send an e-mail with your details to office@enneagram-nederland.nl
You will then receive a document with more detailed information about the program, payment
and details we need from you for registration such as estimated day and time of arrival, special requests for diet, etc.